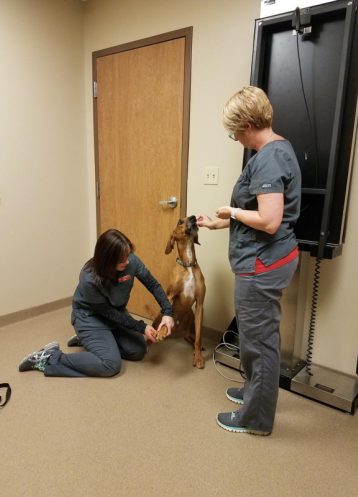 What is Fear Free?
10 Things Your Veterinary Team Should Know About Your Pet

Fear Free Commitment to You

How to Prepare Your Pet for a Veterinary Visit

How to Make the Trip to the Veterinary Hospital Fear Free
Canine
The Canine Spectrum of Fear, Anxiety & Stress
Feline
The Feline Spectrum of Fear, Anxiety & Stress
Fun Visits – Fun Visits are the ultimate "HAPPY VISIT"! We have paired these visits with a skill list to complete to make it a bit more fun and rewarding. Although having a pet that loves coming to the vet is very rewarding in itself! Fun Visits are for everyone and are geared toward preventing fear, stress, and anxiety within the clinic. There are no associated fees along with just visiting. We do encourage these visits between 12:00 pm and 2:00 pm every day and after 6:00 pm Monday thru Thursday, so we can give you our attention and to prevent congestion in the parking and lobby area. We encourage you to bring your pet's favorite treats as well, though we always have great snacks here.
Victory Visits – Victory Visits are scheduled with a qualified Fear Free Technician and have a minimal fee associated. These visits are designed to prevent fear, stress, and anxiety as well as to prepare pets in a more training like session to be successful in completing needed services or examinations. Many times we notice fears start to rise over the simple things as nail trims, grooming, ear cleaning, giving medication, muzzle training, and so forth. This is when a qualified individual can teach you ways to positively train these life skills.
Behavior Awareness Visit – Behavior Awareness Visits are scheduled with a qualified technician and have a minimal fee associated. These visits are designed to be with or without your pet and designed to prevent behavior problems through consultation. Pet selection counseling, transitioning into the home, arrival of a new baby or another human, joining two families together, adolescent visits (9-14 months of age) when behaviors can manifest and cause much stress, the senior pet, and more. Many times people do not feel that these above concerns warrant an Office Call/Examination by their veterinarian, but are looking for guidance. That is what our qualified staff is here to do. We can also direct you in the appropriate direction if the concerns warrant veterinary or training intervention.